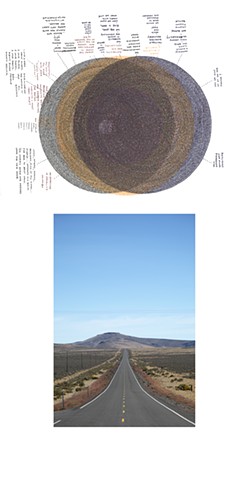 Light Across Oregon (Edition 1- 1/1)
printed drawing and photograph on archival paper
27" x 14"
2022
In 2021, I began a 50,000 mile road trip. Major portions of the United States were still closed.
I am circling the country for eighteen months and visiting people I have lived and worked with. Their words are written into the margins of these drawing and photograph combines.
My original plan to photograph each person I visited changed when I realized two things:
1. Fewer people wanted to be photographed after spending time in isolation.
2. Writing what I hear people say instead of revealing their likeness allows more people to relate to what they read in my drawings.
Instead of portraits, landscapes framed with sections of the road are grounded under the light and color variations of the circle drawings. The roads and signs become Western Toriis, reminders to see closely as I drive through days of light.